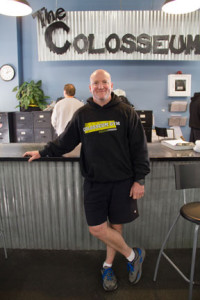 The Colosseum is a gym, not a spa or health club, and those are important distinctions. Our clients come for a workout; you'll hear grunts, see chalk, and work with qualified trainers on top of the line equipment.
PERSONAL TRAINING
Personal Training Price List
Gym membership is not required to hire one of our personal trainers.
Personal Training Rates Effective September 1, 2013
Per Session Rates
1/2 Hour Session

1 Hour session

$42

$67
Monthly Rates

 

1 Session per week

2 Session per week

3 Session per week


1/2 Hour Session        1 Hour Session

$140                              $240

$245                              $415

$350                              $570
Strength Training and Conditioning (Beginner to Advanced)
Weight Loss and Muscle Toning
Bodybuilding & Physique Contest Prep (Figure, Bikini, etc.)
Powerlifting
Corrective Exercise (Rehab) / Functional Exercise
Kettlebell Training
Small-Group Mat Pilates
Youth Performance Training
lacrosse
basketball
football
soccer
& more
Senior Training