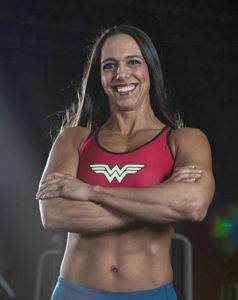 Background
For as long as I can remember, I have been fascinated by the human body – how it functions, what it can achieve, proper mechanics, etc. This fascination, combined with all of my sports related injuries growing up, led me to a career in Sports Medicine. I later realized that I wanted to have more of an impact on the entire body, not just injured body parts, so I made the transition to personal training.
Throughout my life, I've been involved in many different facets of fitness: played numerous sports – including collegiate basketball, run 3 marathons and 2 half marathons, worked in Sports Performance, coached Olympic lifting and I've been lifting weights since I was 15 years old. After 3 years in the personal training industry, I decided I wanted to try something new – I wanted to compete in my first figure competition and it changed everything. It wasn't until then that I realized how much nutrition and mental preparation go into building a strong body. Not only did competing make me a (much) better trainer, but it made me a stronger, more confident person.
As a personal trainer, I aim to build a close, trusting relationship with each client. Through education, encouragement, and accountability, I dedicate myself to every client and their goals. Watching clients transform in all areas of their lives as they get closer to, and achieve their goals is the best part of what I do.
So many of us don't realize how strong we truly are – mentally or physically. My goal is to help you ignite that strength deep inside of you; to help you become the best version of you. Whether that involves losing 20lbs to get off medications, becoming a competitor, or building your mental toughness to take that next big step in your life, together we'll ignite that fire and get you there!
Degrees / Certifications
MS in Recreation and Exercise Science – 2003
BS in Health and Physical Education (Sports Medicine Concentration) – 2002
Certified Athletic Trainer – ATC
Certified Strength and Conditioning Specialist – CSCS
Certified Personal Trainer – NASM – CPT
Certified Corrective Exercise Specialist – NASM-CES